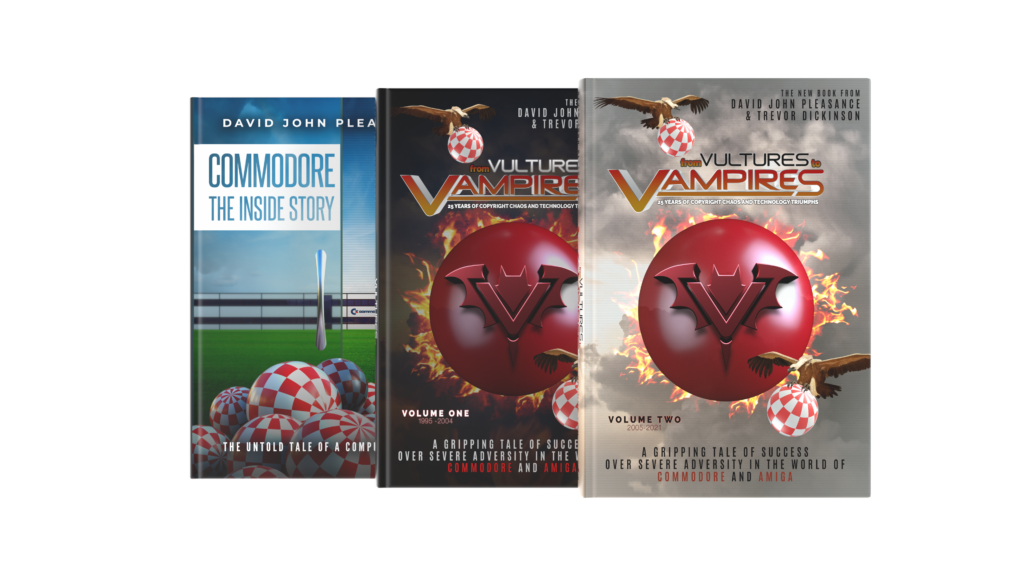 Order my new books, 'From Vultures To Vampires Volume 1 – in stock and shipping now! Pre-Order Volume 2 estimated available July 2022
I am very pleased to announce through extensive research and robust communication with some of the individuals who feature in this saga, we have gathered so much material that we have no option but to expand our book into two volumes.
Volume 1 covers the period from 1995 to 2004 Volume 2 covers from 2005 to 2021.
Volume 2 is almost ready to be spell checked then a final edit before sending to the printers..
However our Editor Simon Busby got married on Saturday 14th May and will now be on honeymoon until May 22nd. Sadly the turnaround time for book printing has been extended since Covid. Since "lockdowns" many more people are buying books and demand is high. Best estimate for delivery of Volume 2 we anticipate will be ready to ship in July 2022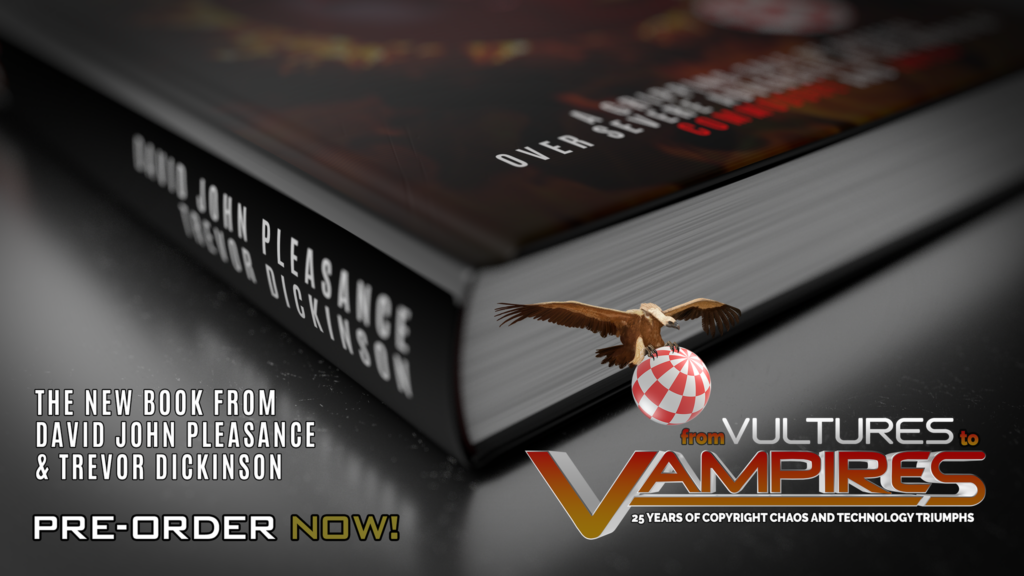 UPDATE:
Following on from the success of the no-holds-barred account from inside the company, Commodore: The Inside Story, former Commodore UK managing director David Pleasance announces his second book, detailing the shocking story of what happened to the Amiga computer and brand after the demise of Commodore International.

The story of how the Amiga – a computer that was at least a decade ahead of everything else on the market – was led to its early demise by deceit, backstabbing and vultures eager to pick apart its carcass, remains largely untold to this day.
David has teamed up with industry figurehead and Amiga fan Trevor Dickinson for this thrilling second instalment of the Amiga story, and examines 25 years of change of ownership, asset stripping, legal battles, and the many companies/individuals whose sole intention appears to have been based on greed. However as we all know – Amiga is the machine they have since dubbed, 'the computer that refuses to die'.
David and Trevor will guide you through the woes of the Amiga in the painful post-Commodore years, up to the present day, where the Amiga has enjoyed a phoenix-like resurrection due to its army of loyal fans who continue to cherish and push the machine beyond all imagined limits.
In spite of the turmoil and copyright chaos that blighted much of the development activity, over the last few years, some of the most incredible technology ever produced have been brought to market and this book not only identifies but celebrates these achievements.
Volume 1 of From Vampires To Vultures: 25 Years of Copyright Chaos and Technology Triumphs is available to order for immediate delivery!

Volume 2 is close to being finished and is available to PRE- ORDER now for shipping estimated July . ORDER NOW Don't risk missing out!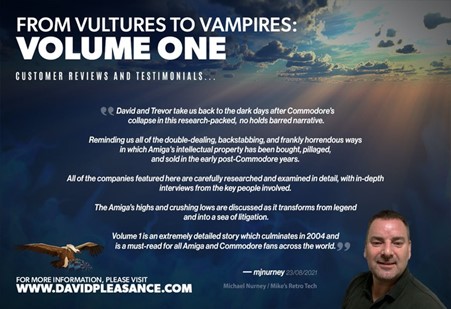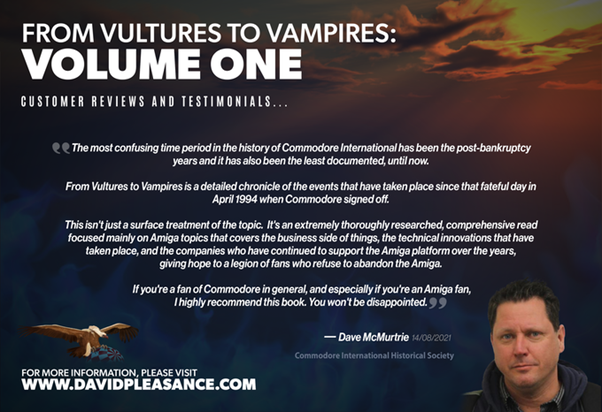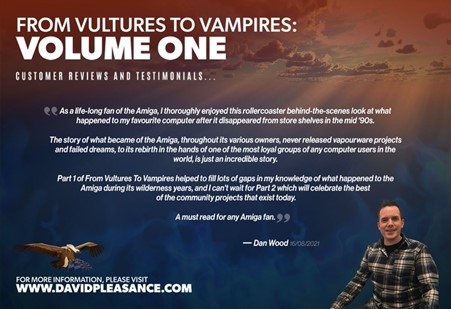 Available Now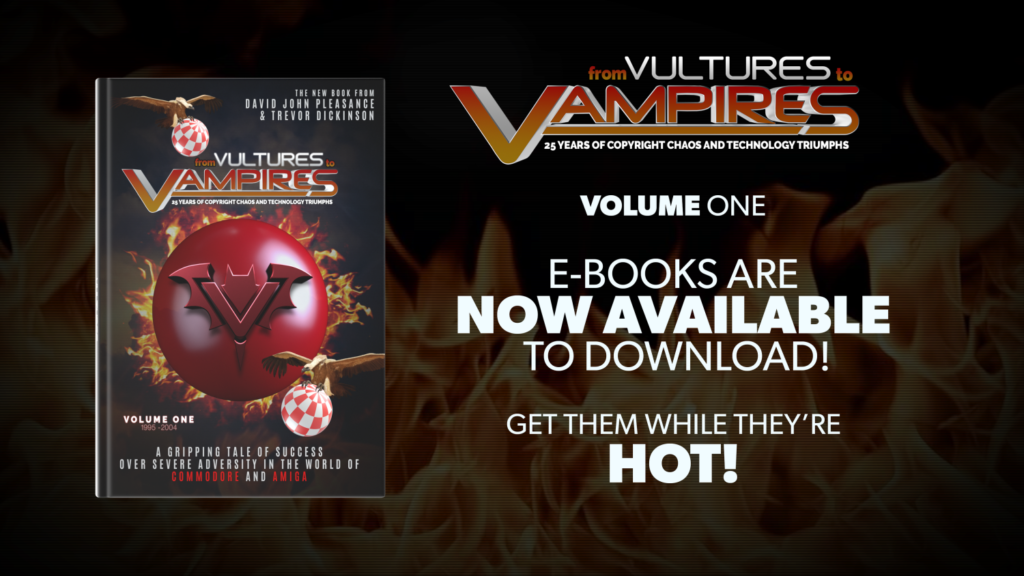 Commodore Books
Pre-order From Vultures To Vampires Volume 1 and Volume 2 and buy my previous book, Commodore: The Inside Story, detailing the untold story of a computer giant, available in hardback, e-book and audio book formats. All hardback books are £35 each plus Post and Packing.
These discs contain several live interviews with David Pleasance who reveals some stories not in the hardback book (some are a bit rude ) Also contains a 40 minute video The Story of Commodore Founder Jack Tramiel, produced by industry legend Kim Justice.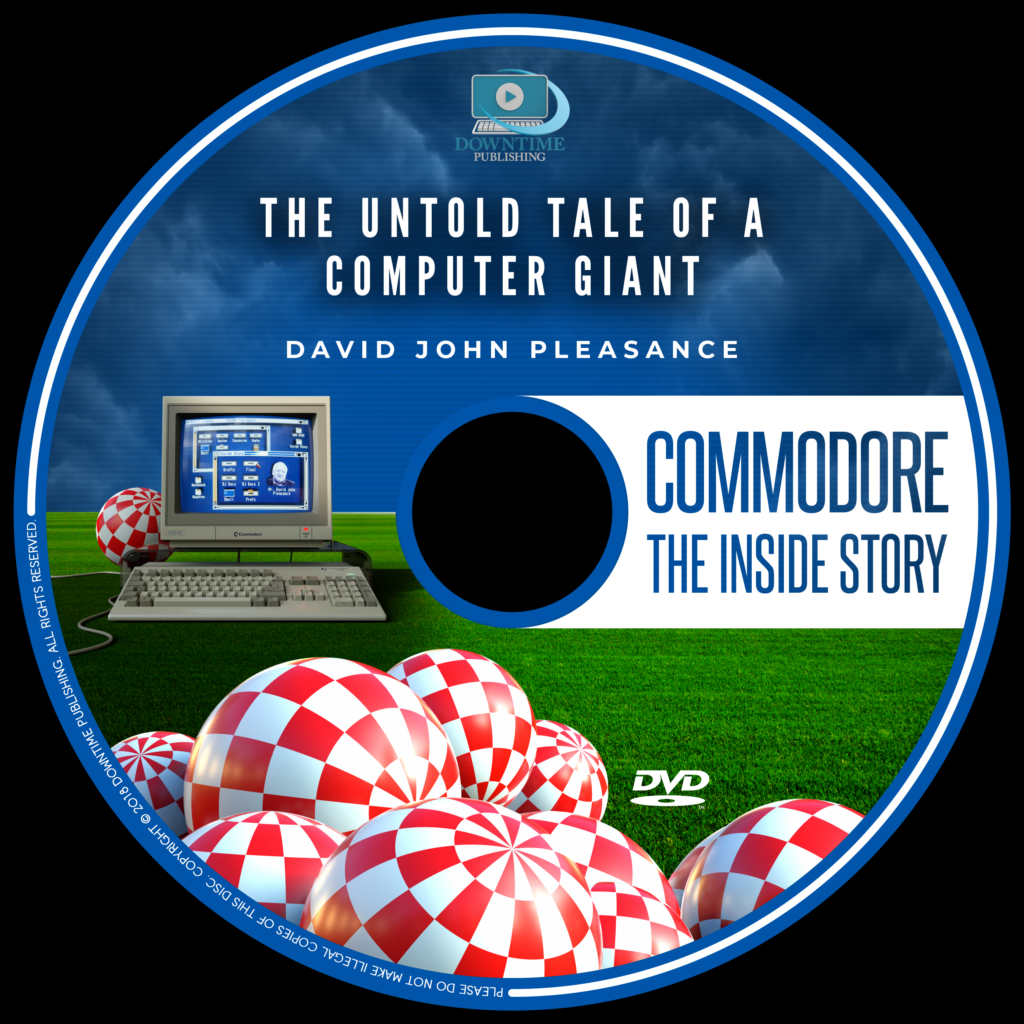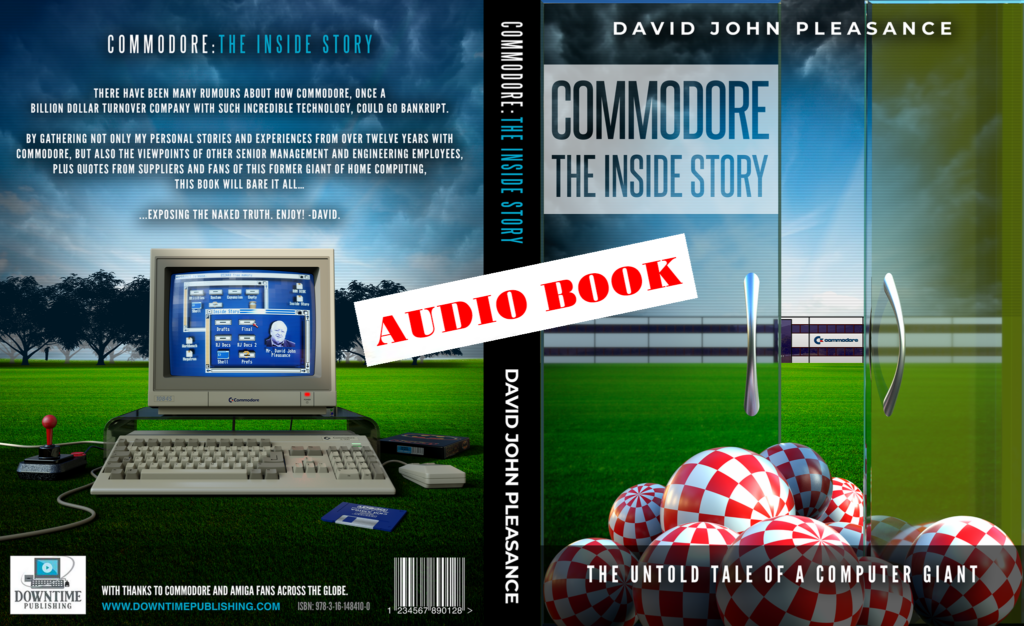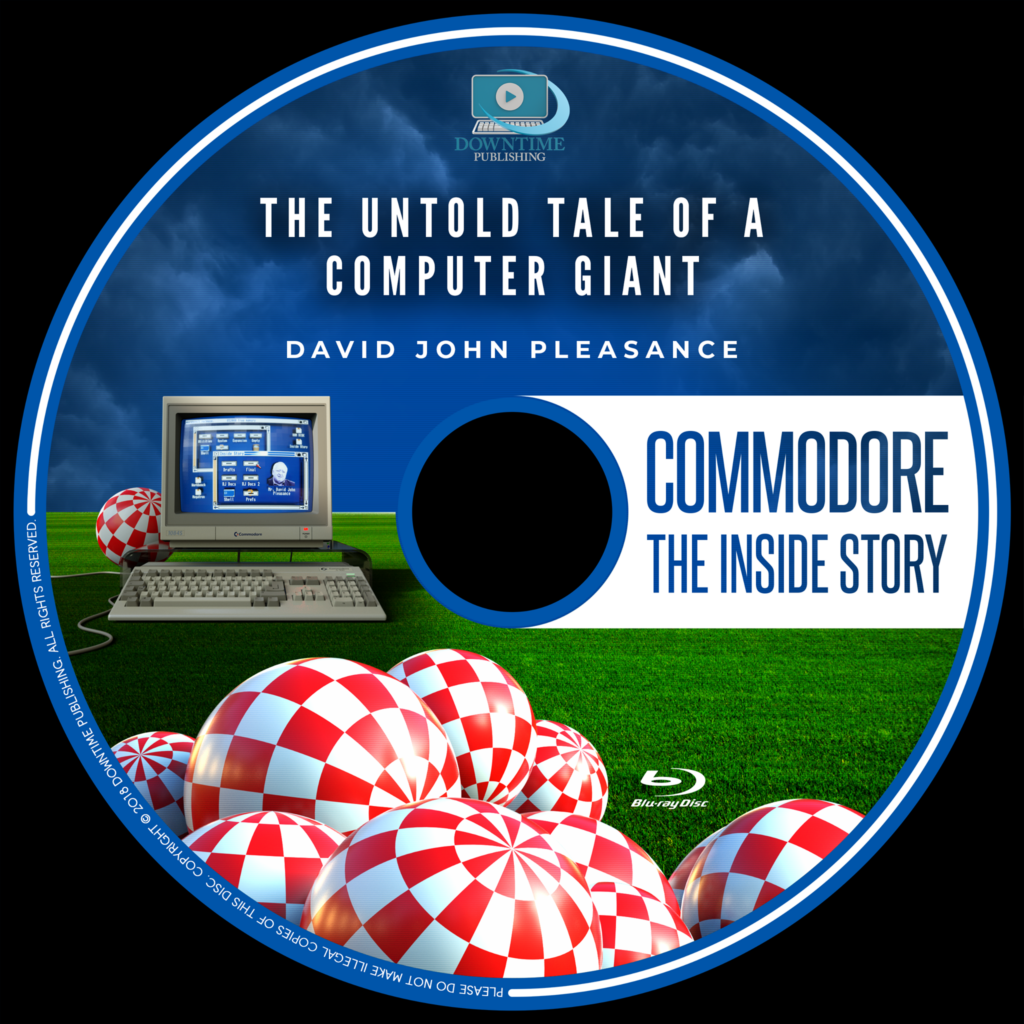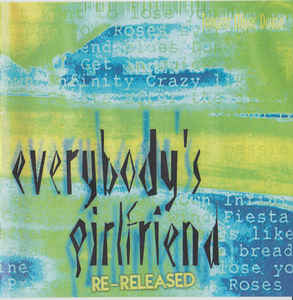 FREE DOWNLOAD –
First released in 1995 as a "Celebration in Music of 10 years of the Amiga. Recorded in my own studio "Tangent Music Design" (we had an Amiga 4000 in the heart of the studio) This is a concept album of real live music (NOT computer generated) but real instruments and live vocalists performing 14 tracks of original music and songs. Originally sold off the pages of the dedicated Amiga Magazines – the only thing we knew about our target audience is – that they owned (or dreamed of owning) an Amiga. So what we wrote and recorded are 14 tracks of music of all sorts of genres – in order to find something for everyone.
We sold out during 1996 and when in 2018 I released my first book "Commodore The Inside Story" I was inundated with requests to re release the album which I did, and it also sold out.
So here it is now as a FREE DOWNLOAD – which is my way of thanking everyone for such incredible support over the last few years.
NB: Anybody wanting to listen to a little bit of my playing flamenco, track number 11 "Para mi Amiga" is me playing my composition written as a "Homage to Jay Miner" (considered to be the Father of the Amiga) To dispel any doubts this track was recorded in "one take" that means no double tracking no cut and paste, just me with my guitar (1994 Pedro Maldonado Hijo) playing my composition from start to finish Enjoy!